Robyn's judging Profile
Licenced to judge Group 1 Toys, Group 2 Terriers, Group 3 Gundogs, Group 4 Hounds, Group 5 Working dogs and currently training for Non-Sporting and Utility
Group 2 Judging profile
Email: ecirpsmooths@yahoo.com
I began my love of animals at a very early age. Many said I had a gift to transform wild horses into manageable companions. It was my involvement with one particular quarter horse, which was exceptionally wild, that I learnt respect for animals. He taught me that when there is trust anything is possible. This concept is something that I strongly hold when handling my beloved fox terriers. I have been actively involved in breeding, showing and promoting my breed for over thirty years.
I was fortunate enough to have the late Mr. Cam Milward from Grenpark Smooth Fox terriers as a mentor for ten years. He taught me the essence of identifying and breeding correct type. He also instilled in me the importance of harnessing the spirit of the terrier rather than breaking it, in much the same way my horse had taught me. Cam taught me to see the beauty in nature. He would ask me to select the most pleasing cattle, chickens, flowers, canaries and rabbits. The lesson here was to look for balance, symmetry and quality. He said this view must also be utilised when viewing dogs as a breeder and a judge.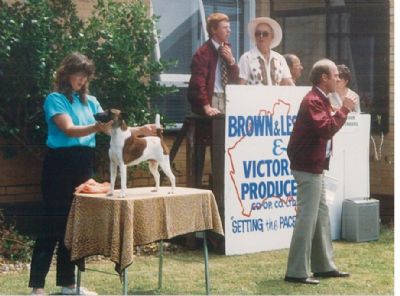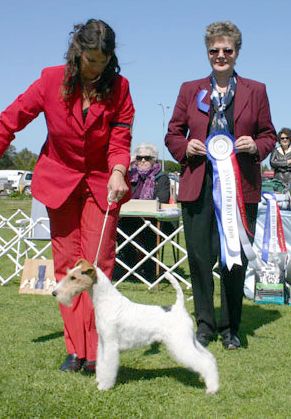 My love of terriers is therefore clear when realising my history. The connection between the spirit of the horse and terrier are close and it is this spirit that has become my passion. The terrier has the unique blend of courage, a love of independent adventure and true loyalty to his master as a companion.
Breeds I have had the pleasure of handling include the Airedale, smooth and wire Fox terriers when on the tip-toe of expectation are delightful to display and the tough and tenacious Scottish terrier, who is one of my favourites. The Scotty is impressive when he displays his head-up tail-up terrier attitude. Others I have shown are the workman-like Cairn with his fearless and gay disposition; the graceful yet powerful Kerry blue; the Bull terrier who is awesome when he displays his true gladiator character; the smart Jack Russell of keen expression; the bold, fearless and totally reliable Staffordshire Bull terrier; the stocky yet graceful American Staffordshire terrier and the lovable little "demon' Norfolk terrier. I believe that through handling so many different breeds I have come to understand the similar yet individual qualities of the terrier breeds.
I have judged many terriers at the Open show and member's competition level. The terriers I have judged include the Sporting Terrier Open show, the Black and White terrier show (Scottish and West Highland white), the Airedale, Jack Russell, Bull terrier and Staffordshire Bull terrier Open shows. In August 2008 I judged the KCC Park Show, which was my first terrier group at Championship level . I had an entry of 140 exhibits.
The greatest joys that I have had in my involvement in terriers include the time I have spent with my family whilst adventuring to country shows, the wonderful people I have met in the global show community that the dog world offers and the companionship of my beloved canines. The genetics of dog breeding, the understanding of form and function, the intricacies of dog grooming, conditioning and handling are all delightful extensions of my interest. Terriers are no longer just a fanciful past time, for me they have become part of who I am. I am fortunate to have shared my love with my children and parents. We would all travel together to the shows and the wonderful memories are what life is all about.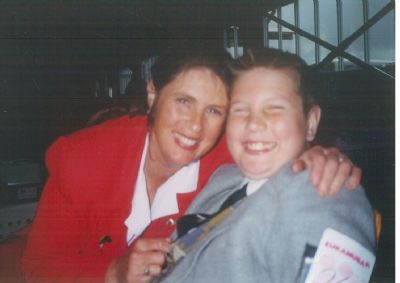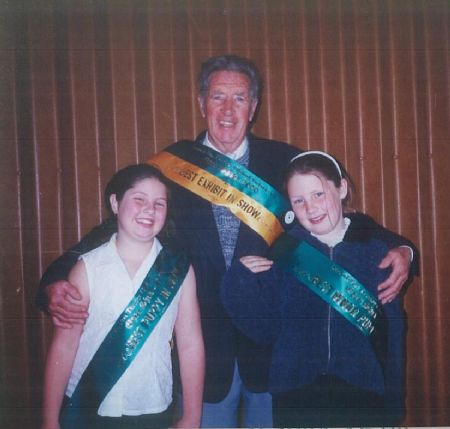 The time I have spent with Keven, my dear father and kennel partner has been priceless. His background in pigeon racing and breeding has furthered my knowledge in the importance of the female tail line. He also taught me not to be afraid and to breed close when the specimens are of top quality. It is not just what looks good on paper, but also what looks good in the flesh.
After forty years Ecirp kennels have produced over 100 champions/Grand champions/Supreme Champions and are still producing Best In Group/Best In Show and Specialty winning exhibits. I am overjoyed that my son Anthony, who is also a terrier judge shares my passion for smooths, thus creating three generations at Ecirp kennels.
I have held the positions of President of the Smooth Fox Terrier club of Victoria, Vice President of the Sporting
Terrier Club of Victoria and The President of the Maldon Kennel Club. Currently I am a committee member of the Ladies Kennel Club in Victoria.
I have judged Terrier Specialties in New South Wales, Tasmania, New Zealand and in the United States of America.
I have also judged the Fox Terrier Specialty and The Jack Russell Specialty Shows in NSW.
I have also judged multiple groups in Tasmania, Victoria, New South Wales, Queensland, South Australia and the United States of America. I have also been Invited to judge in South Africa and Ireland in 2024
TOY JUDGING
ADDS shows in South Australia 2023
KCC Park Show 2008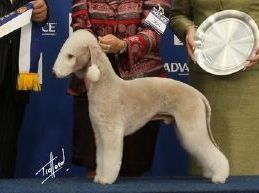 M/BIS Grand Ch. Rottrievers Makes People Talk (Swe) M/BIS Grand Ch.PiperdenePolePosition
The Fox Terrier Club of NSW Specialty 2008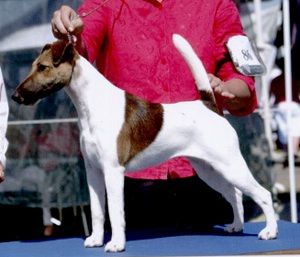 M/BIS M/BISS Grand Chmpion Wyninebah Checkmate M/BIS BISS Ch Wyninebah Fox Classic
Ballarat All Breeds Championshipshow 2009
Bull Terrier American Staffordshire terrier
Belconnan show in Canberra 2009
Fox terrier (smooth) Staffordshire terrier
Aust Gr Ch Wyninebah Checkmate Best In Group
Tasmanian Sporting Terrier Championship show in 2010
Best In Group Cairn Terrier Runner Up In Group Staffordshire Bull Terrier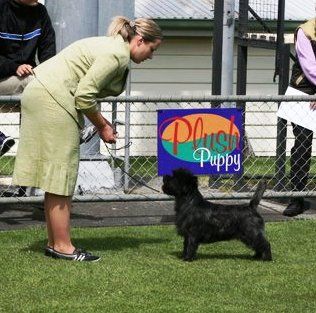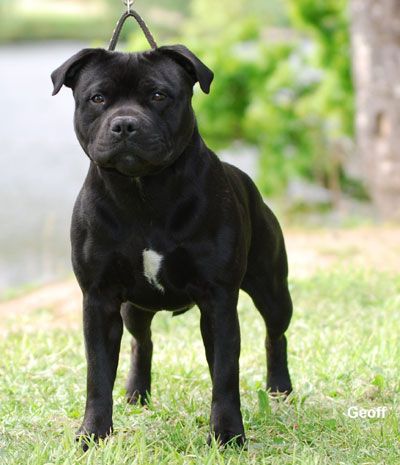 Ch Abbeycairn Scotish Mist (K Davies) Ch Bustabones An Reice Gaelach
Euroa Kennel Club 2011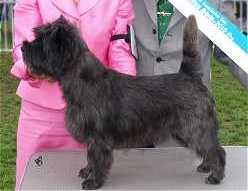 MBIS Grand Ch. Joymont Secret Mission. Lakeland
Group 3 Judging profile
In 2010 I passed my gundog test and now have a judging licence for group 3.
To date I have judged open shows for German Short Haired Pointers, Cocker spaniels and Hungarian Vizulas. I have also judged 3 members competitions for club shows. I have also attended extensive work shops in all the gundog
Daylesford Agricultural Show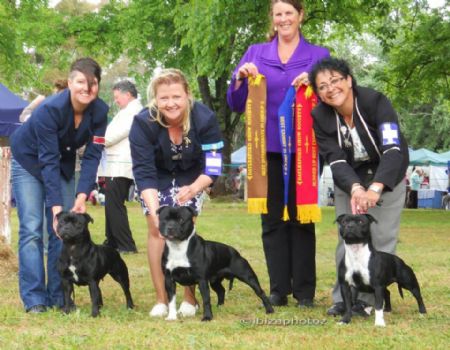 Best In Group Supreme Ch. Neworder Never Miss a Beat, Runner up in Group Ch Lionsden A Whole lot of Rosie
and Intermediate in Group Neworder After Dark
Easter Festival April 2015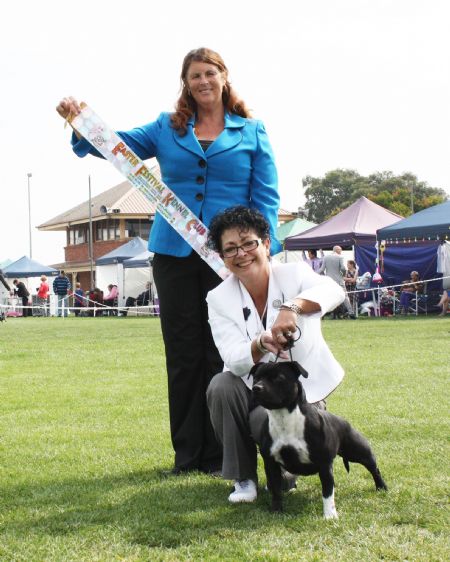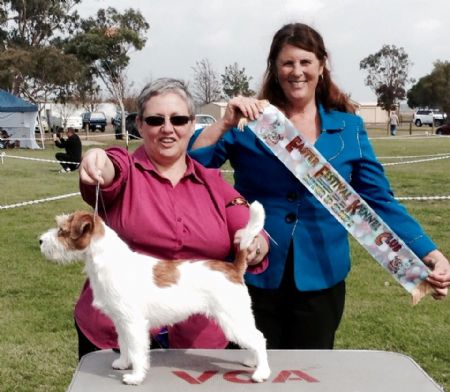 Runner Up Baylock Madoori Splice
Best In Group Ch Lionsden A Whole lot of Rosie
Ms. Robyn Price-Killeen, Ecirp Smooth Fox terriers, Victoria, Mobile 0439896109